about this place…
Experience and knowledge is the key to complete customer satisfaction with the client's Window Covering selection and installation. I have owned and operated Rocky Mountain Design Inc for 30 years. 20 years from a store on 3300 South in Salt Lake City and 10 years from my home in Sandy.
I am a one-man operation with extensive hand-picked contacts who manufacture for me. I personally handle the sales, service and installation of your Window Coverings. I am able to guide you through making the right decision to meet your needs and making it look professional. I measure and guide you through product choice, color and design options that best suit your needs. Its a big advantage having just one person responsible for it all.
I do free email or phone estimates. In-home consultations and measures are $50, but are waived upon purchase.
WOVEN WOODS
Similar in design and function to roman shades. Materials include wood slats, bamboo, match stick, and grass cloth. Colors range from white to black and natural to walnut. Woven woods can be lined for privacy or black out. All woven woods can be made top/down bottom/up and include a valance of the same material. Panel track woven woods are also available for sliding doors and larger windows.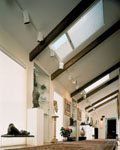 SKYLIGHTS, ARCHES AND TRAPEZOIDS
Skylights made from cellular shades run open and closed on side tracks for easy care free operation. Shutters can also be used in skylight windows. Arches and trapezoids windows can be covered with cell shades, shutters, pleated shades, 2″ slatted wood, or even drapery or sheer material. The style and type chosen would coordinate with the existing window covering and dècor already in the home.
SHEER SHADES
Fabric horizontal slats with sheer material front and back create an elegant and high end look. Slats open for a filtered sheer view or raised completely for a clear view. Slat sizes are 2", 2 1/2" or 3″. Vertical sheer shades are also an option.Motorization is an option for sheer shades.
ROLLERSHADES/SCREEN SHADES
Very popular these days, Roller Shades have made a come back in a huge way. Now with beaded chain and clutch operation for easy and fast up/down operation. A wide selection of fabrics including screen shades with 1%, 3%, 5% and 10% openness factors. Light filtering fabrics that give you privacy at night and indirect light in the day. Available in many patterns and textures from linen weave to modern textures. Black out rollers shades are also an option also with many patterns to choose from. Fascia, cassettes, and Cornices are available to go over the top to give that added custom look. No dusting needed and unobstructed views are the biggest benefits to roller shades. Motorization and home automation through a cell phone app are also available.
MOTORIZATION
Rollershades are the most popular window covering option for Motorization. Battery powered, internal rechargable battery power or hardwired low voltage or 110 volt are all available. Controlled by 6 channel remote control or available My Link Home automation through a cell phone app. Control all your shades with a push of a button. No control cords or chains.
ROMAN SHADES
Roman shades can be made as a flat pleat or as a water fall style or hobbled pleat. Some of the roman shades I do are of a complete custom design. With or without lining, cord lock, cord loop or cord free and top down/bottom up are options available.
PANEL TRACK
2 to 3 foot wide panels that slide on multiple tracks. Made with roller shade or woven wood materials. Tracks are most often covered with a valance of the same material as the sliding panels. Great for patio doors or larger picture windows You're neighbor probably does not have them!
CELLULAR/HONEYCOMB SHADES
Fabric shades that are superior insulators. Can be sheer, translucent or black out materials. Top/Down Bottom up, cord loop and cord free are all available. Motorization with a hand held remote is a popular option.
PLANTATION SHUTTERS
Manufactured from scratch in Salt Lake City to insure a proper fit. This is Not a ready-made product. Furniture quality finish, mortise and tenon joints, tight gaps and a written lifetime warranty. Louvers range in size from 1 7/8″ to 5 ½". Plantation shutters are excellent insulators, low maintenance, very functional, add value to a home and are a very desirable window covering. Materials available include PVC, MDF, Basswood, Clear Alder and Knotty Alder. Arches of any shape, trapezoids, oval and hexagonal windows are no problem. Split Tilt, Vista (no stick), cafè style and grand molding are some options. Custom paint and stain is also available.
HORIZONTAL WOOD BLINDS
These are custom made blinds to the 1/8 of an inch crafted from grade A Basswood. Slat sizes range in width from 2 inch, 2 1/2 inch and 3 inch. I have found that the 2 1/2 inch and 3 inch sizes coordinate well with plantation shutters.
Some clients put the plantation shutters in the front of the home and the wood blinds in the back of the home. Colors range from bright white to black in the painted slats. From natural to walnut in the stained slats. A 3 inch valance is included and the returns can be customised to fit your specific window casings.
HORIZONTAL POLY VINYL BLINDS
It is hard to tell the difference between these blinds and the wood blinds. But the price is 30% less than the wood blinds. Poly vinyl blinds are not painted but do come in wide range of colors including simulated stains. These are great for the budget minded consumer or landlords with apartments. Water can not damage them. Custom quality but close in price to the ready made products at the big box stores.
VERTICAL BLINDS
Offered in 3½" louver width. Smooth or textured, curved or S curved. PVC vertical blinds provide a very versatile operation by tilting open and closed and by drawing open like a drapery. They are contemporary, clean looking and very low maintenance. All Vertical blinds at Rocky Mountain Design, Inc. include a self aligning headrail, valance with dust cover and a lifetime parts warranty. Many patterns, colors and styles are available.
REPAIR AND REFURBISH
Most of the time blinds and shades can be repaired and/or refurbished cheaper than buying new. A great way to save a buck! I can restring, reladder, replace tilt gears, clutches, repair or replace vertical blind head-rails or slats, and touch up chipping and peeling wood blinds or shutters with paint or stain.